POSTED BY BHARAT DOGRA ON 21/12/2018
INSPIRATIONAL JOURNEY
A sudden accident can often alter the path of one's life. When Sabriye Tenberken lost her eyesight, she started on an inspirational journey to illuminate the lives of blind people around.
Bharat Dogra is a Senior Journalist who has been involved with several social movements and initiatives.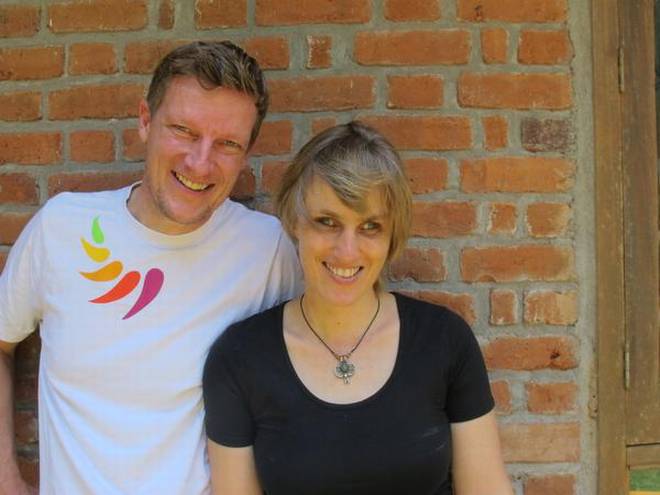 The exuberant schoolgirl in Germany was ice skating happily when she had an accident. Her eyes were badly injured. Her parents realized with extremely distressing helplessness that their dearest daughter was headed towards blindness. They held back this information from her for some time but one day she had to know. She was completely blind at the age of just 12 years. This was understandably a very difficult phase in the life of Sabriye Tenberken.  While the blackness which was new to her life was difficult to cope with, what caused her much more distress was the discrimination and even bullying she faced from time to time. The sensitive teenager became more and more an introvert. Then at some stage she tried to gather her strength for some big initiative. She had heard of black power and the slogan 'Black is Beautiful'.
This inspired her. The blackness which had entered her life, she told herself, should lead her to doing something beautiful for others. Taking forward her university work on Tibet she decided to go there to help blind children. She started devoting herself more and more to creating the first Tibetan Braille system.
Working in Tibet was never easy as along with all the other difficulties the government authorities were needlessly suspicious and raised too many questions all the time.
However in the middle of all the difficulties, invaluable help also became available from unexpected quarters when Sabriye met Paul Kronenberg.
In his teenage years in Holland Paul had also struggled with a peeling skin disorder to later train as an engineer. Both of them had struggled hard with serious adversities and were now determined to work together to help others to cope with adversities and rise above these adversities.
In 1997 they co-founded Braille Without Borders. They set up an institution which included a preparatory school for blind children, a vocational training farm, an integration center and a Braille press.
However there were increasing problems with the authorities and it gradually became clear that for their wider work they will have to find some other place. They started looking for a suitable place in India and finally they could find a beautiful place in Trivandrum, Kerala.
Here they have set up Kanthari—International Institute for Social Visionaries. This institute is based on the concept that those who have suffered from serious adversities and have experienced the pain of this experience are likely to be highly motivated to reduce the pain and suffering of others.
Hence those who have overcome serious adversities in their own life should be able to have access to a place where they can get the necessary training and other support so that they can become the agents of ethical social change.
Those who have been able to already start on this path can get the necessary help and training for better success on this path. As they have themselves travelled on this path Sabriye and Paul are in a very appropriate position to guide such as an effort.
There are high hopes from this effort. Already 183 social visionaries from 41 countries have benefited from seven month training courses at this unique institute.
Recently Sabriye and Paul were honored with the Maja Koene Award at a simple ceremony organized at the rural campus of the CESCI in Madurai where I met them.
Sabriye said that she finds that people in India can be very friendly and she is very happy to work here. However the authorities should be more helpful particularly keeping in view the kind of work they are trying to take forward.
Certainly this pioneering effort has a lot of potential for initiating new work in reducing very different and neglected causes of distress and deserves a lot of support.
The government authorities would do well to consider a supportive rather than a mere regulatory role for themselves in such circumstances.
I also asked about their links with their earlier work in Tibet. Before leaving Tibet they had trained their students well for managing the institution founded by them. However both Sabriye and Paul regretted that after they came here from Tibet the authorities there have not been helpful regarding their efforts to remain in contact with their students.
It was nice to see Sabriye, Paul and other activists receiving this honor. Maja Koene was a photo-journalist from Switzerland who travelled to many parts of the world and was deeply pained by the poverty and hunger she saw at many places.
She was thinking a lot about what she can do to reduce this pain when In India she met P.V.Rajagopal, co-ordinator of Ekta Parishad, an organization which works on justice and land related issues with some of the poorest communities. Together they found CESCI which works on related development and co-operation issues with the overall perspective of peace and non-violence. Maja died from cancer at an early age and the Maja Koene award was started in her memory.


Between the afternoon, resisting, and the night, gathering, the gaze of a young girl. She abandons her notebook and writing, all her being in two fixed eyes. On the wall the light cancels itself. Does she see her end or her beginning? She'll say she sees nothing. The infinite is transparent. She'll never know what she saw.
— Octavio